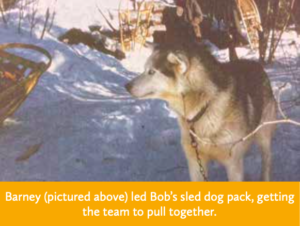 Retired InterAct missionary Bob Moffat recently led the U.S. staff through a time of team building during their work retreat. Bob shared his experience as a young missionary adapting to a fresh mode of travel in the frozen far reaches of Alaska. As a first-time sled traveler, finding and building his dog team became a challenge he would never forget.
In the late 50s, Bob moved to Alaska, living in the bush among Alaska Natives. The only way to get around in the winter was by dog sled. Bob explained, "I had one pup given to me–the rest of the team were cast-offs and misfits from other teams. Their owners had truly been kind to give me any dog, but they usually gave me their troublesome animals. I had harness chewers, fighters, slackers and even a blind dog. That made for a pretty ugly team, both in looks and performance. I constantly struggled with inexperienced, untrained lead dogs. One dog would drag my whole team into a passing group and start a dogfight. Another couldn't comprehend directions, and the next leader I tried would just stand there and look at me with no inclination to pull at all. When I hooked up the team and picked one of them to lead, it was often a case of, which evil shall I choose?"
Bob was relieved when one day a successful Athabaskan (an Alaska Native tribe) trapper with one of the most experienced dog teams in the area brought his beloved lead dog, Barney. The trapper said, "He's getting too slow for my team, but he is plenty fast enough for yours." With a fond pat on Barney's head, he walked away, leaving his special dog. "My life suddenly got a whole lot better!" Bob said. "The dog led the pack well and was able to pull the team together." 
Bob's experience with sled dogs became a parable for teamwork. He connected this metaphor to several biblical truths during his years in ministry. Teamwork begins when we have a healthy, biblical view of ourselves. The Bible gives us a trail map for who we are in Christ in Genesis 1, Romans 6, 1 Corinthians 12, and throughout Scripture With an understanding of your identity in Christ, and from his experience with sled dogs, Bob lays out a few principles to consider as you run with the team God has placed you on:
Be a lover, not a fighter
Pull your weight
Respect leader(s) and teammates, and show an interest in each other's work
Share the load:

Celebrate each other's victories and support one another through the setbacks
Create an atmosphere of safe transparency and willing accountability
Pray for each other
The most foundational of these principles is our love for one another, and love is the key to being a part of any team. Jesus stresses the importance of love in Matthew 22:37-39, saying that the first and greatest commandment is to love the Lord, and the second is to love others. In John 15:12, Jesus states, "This is my commandment, that you love one another as I have loved you." Paul emphasizes the importance of love in 1 Corinthians 13–that all ministry done without it is meaningless. 
With these principles in mind, try visualizing yourself as a beloved, well-trained Arctic sled dog, harnessed closely with your team, pacing and pulling together through the elements. Imagine playing your part on the journey delivering precious cargo such as food and medicine to remote areas no other form of transport can reach. As you work with the people God has placed in your life, you move God's purpose for this world forward. Whatever you do, wherever you serve, you are a critical member of the Body of Christ.