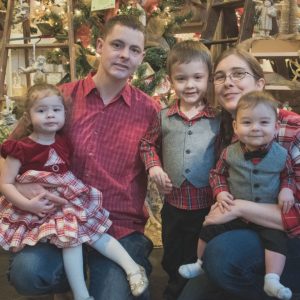 Chad and Andrea Peterson were saved at a young age and developed a heart for missions before they knew each other. Andrea had been praying for God to show her where He wanted her to serve, and Chad had lived in a small village north of the Arctic Circle for a few months, where he developed a heart for the Alaska Native people. After meeting in February 2013, they fell in love with each other's hearts for serving God. They were married by November of that year and now have three beautiful children.
In 2016, Chad and Andrea began working towards their dream and goal of reaching the people of Alaska through InterAct Ministries. In August 2021, the Peterson family arrived on the field in Copper Center with a desire to make disciples through building intimate relationships with Alaska Natives. They work closely with InterAct team members Ron and Jean Paull, ministering in the village through discipling, church planting, and children's ministry.
Andrea has enjoyed ministering to Native young people in sometimes unexpected ways through a children's Bible club ministry. There, kids spend time in God's Word and can make new friends. In addition, Andrea has had opportunities to develop relationships with teen volunteers who come to help with the program. The Petersons are hopeful that God will open doors for them to work with Alaska Native kids and youth in the Chitna area as well.
Chad also works one day a week at the local airport, where he's had the opportunity to get to know coworkers, and he serves in the local church, which is critical to their ministry. In May 2022, the Petersons look forward to the arrival of a short-term team that will work on Strelna Lake Bible Camp, which will be another integral part of their ministry. They are excited for all God has in store for them and the people He has placed in the path of this ministry!